How to Find Your Doll's Shoe Size
Finding your doll's shoe size is easier than you think, though it certainly can be confusing at first. One thing that makes it seem difficult is that there doesn't appear to be a universal numerical size that every manufacturer of doll shoes uses. So, for example, you might find that your doll wears a size 6 shoe in one brand, but a size 4 in another. Of course, brick and mortar hobby stores that specialize in dolls are hard to find, and the pandemic has only made matters worse. What this means is that we're turning to online shops more than ever.
Since remote buying is the new norm, finding doll clothing and shoes that will fit correctly can feel especially frustrating. I'm going to offer the advice I wish someone had given me when I first started collecting dolls.
Let's make this simple
Toss out Shoe Sizes. Forget them. They change depending on the manufacturer, and unless you're 100 percent brand-loyal, using numerical sizing will cause you to get it wrong more often than you get it right.
Use Measurements. The best – and in my opinion – the only numbers that matter are the measured length and width of your doll's feet.
How to Measure Your Doll's Feet
STEP ONE: Outline Your Doll's Foot
Collect your doll and take off any shoes or socks she is wearing
Place your doll's bare foot against a piece of unlined paper and hold it firmly in place
Use a pencil/pen to draw an outline of your doll's foot. Keep the pencil at an angle to avoid making the outline too big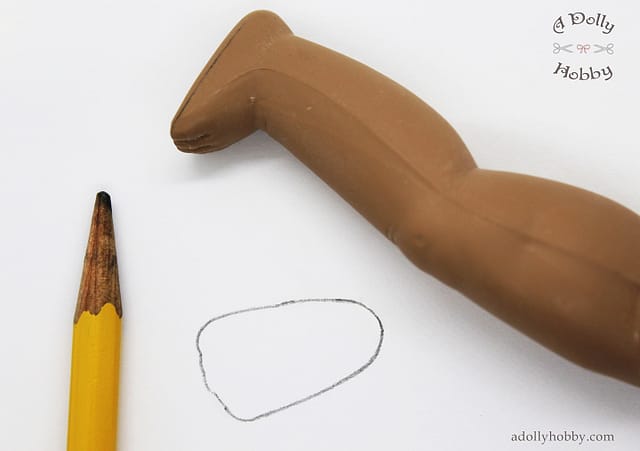 STEP TWO: Measure the Length 
Now you have the outline of your doll's foot, you'll want to use a tape measure or a ruler to find the true length.


Identify the longest part of the foot, and then measure. If you are finding this difficult, simply make a dot at the top of the toes and the bottom of the heel, and then draw two straight horizontal lines away from your outline. You can then just measure the distance between the two lines

Write that number down
STEP THREE: Measure the Width
Now that you know the length of your doll's foot, it's time to find out the true width

Use a tape measure or ruler to measure the width at the widest part of the foot

Write the number down
STEP FOUR: Measure the Toe Box
Measuring the toe box is especially helpful if you plan to make your own doll shoes

You can measure the toe box by simply wrapping a tape measure around the top of the doll's foot, right before the ankle, and then down and around the sole of the foot

Write the number down
STEP FIVE: Measure the Ankle
If you are partial to doll shoes that have ankle straps, this is a great measurement to know. It will also come in handy if you plan on making your own doll shoes

You can measure the width of your doll's ankle by simply wrapping a tape measure around the doll's leg at the ankle

Write the number down
Using the Measurements
Now you've figured out the true measurements of your doll's feet, it's time to make one last adjustment to help you find the perfect fit.
Unlike our feet, vintage doll's feet are typically made of inflexible materials such as wood, wood/glue composition, porcelain bisque or hard plastic. These materials do not have the same give that our feet have. So, while you may find a doll shoe that has the exact length and width of the measurement you've just taken of your doll's feet, if you were to buy those shoes for her you would almost certainly find that they do not fit her.
You definitely don't want to try to force your doll's feet into a shoe that doesn't fit. If your dolls are vintage and antique like mine, you can cause stress fractures to appear on the feet and can even cause the toes or heels to crack or break. You might also damage her new shoes by causing the fabrics/materials of the shoes to tear. What we're looking for is an ideal fit. This is a shoe that is easy to slip off and on, but does not fall off on its own. You'll also want to find a shoe that doesn't have a huge amount of space at the back of the heel or in front of the toes.
To help us get the perfect fit, we need to counterbalance the rigidity of the materials against the measurements we've just taken. Here's how:
And that's really all there is to it! I wish you the best of luck hunting down the perfect pair of shoes for your dolly. Feel free to leave comments or ask questions below.
Kind regards,
Jennifer